Customer Pick-Up 3D Lawn Ornaments and Oversized Cards Gallery
All Occasions Signs 3D lawn ornaments are available as a 'customer pick-up' option only – sorry, we do not deliver or set these up. Our 3D lawn sign ornaments are great for birthdays, anniversaries, retirements, graduations, welcome, get well, or any fun celebration!
3D lawn ornament rentals are for three calendar days. You pick them up the day before the event so they can be installed early and enjoyed the whole day. You'll then bring them back the day after the event by noon. Extra days can be arranged for a small fee.
Our Cows and Pink or White Flamingos are installed by poking their stake into the lawn or snow.
Our Penguin 3D lawn ornaments do not come with lawn stakes and sit on top of the ground or snow.  Scroll down for prices.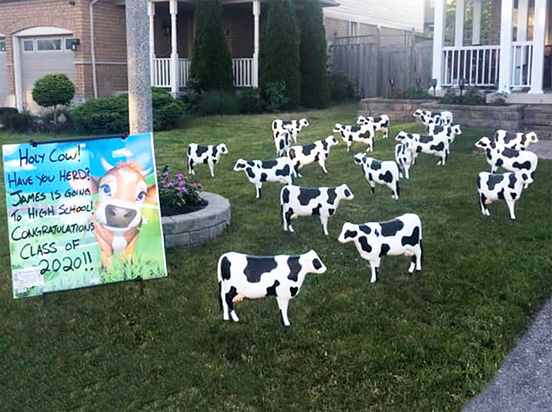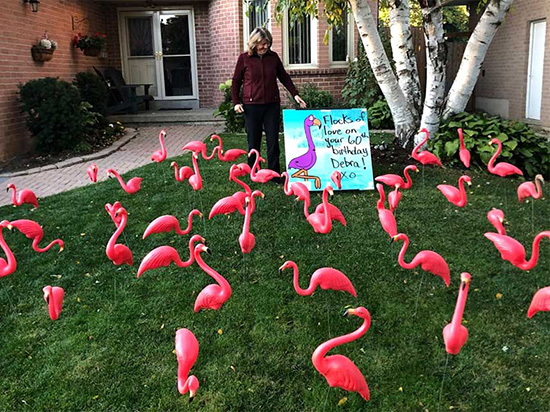 Can't think of a message for your oversized card? Click to view our 3D Oversized Card theme phrases.
3D lawn sign ornament rental options
Mix themes for any occasion!
Cows
Penguins
Pink Flamingos
White Flamingos
Sample 3D lawn ornaments and oversized cards
Note: Sorry, we cannot deliver the 3D stock. You can pick up our 3D line from us in Oshawa, and take them where you need them. The 3D item comes with a yard card that will fit in a car. Mix and match as you like. 
Can't think of a message for your oversized card? Click to view our 3D Oversized Card theme phrases.
Keepsake critters keep your fun memories alive! $26
Order a personalized keepsake critter for your special person to keep. We will make a brand-new birthday sign that mirrors the ones we placed on your lawn, complete with a personalized message on it. We will bring the keepsake when we deliver your order and leave it behind when we pick everything up. They will love it! Size is approximately 20″x16".
SPECIAL PRICING for 3D lawn ornaments with an oversized card
Feedback on our celebration lawn signs and stork rentals
I love them! When I do it again, I will definitely do 20 signs to cover the entire lawn. Thanks again
He was bewildered when he woke up this morning to find the display in this lawn. Thank you for helping us to honour him!
Thanks All Occasions Signs for making my parents 50th Golden Wedding anniversary that much more special with a morning surprise with fun signage! Fair price and reliable service. They made good suggestions and delivered as promised.
Such a fun way to celebrate someone's big day! I have used All Occasions Signs several times now, and have always been happy with the results. Their lawn signs put a smile on the whole neighbourhoods' faces- not just the Birthday Boy/Girl!