Lawn Signs and Yard Decoration Gallery
All Occasions Signs is Durham Regions original lawn sign, yard decoration and oversized card celebration rental service with the largest inventory in the GTA. Make your birthday, anniversary, new baby, retirement, graduation or any other celebration extra special with us! 
Outdoor lawn signs and yard decorations that will be remembered for years! You can have us deliver or you can pick up from us.
Although they are called birthday lawn signs, our lawn signs are used for other occasions as well such as anniversaries, graduations, retirements, welcome home, get well, baby announcements — you are limited only by your imagination!
Each lawn sign order comes with an oversized card with a special handwritten message (see ideas below) with as many small signs as you require with a minimum of ten. Scroll down for prices.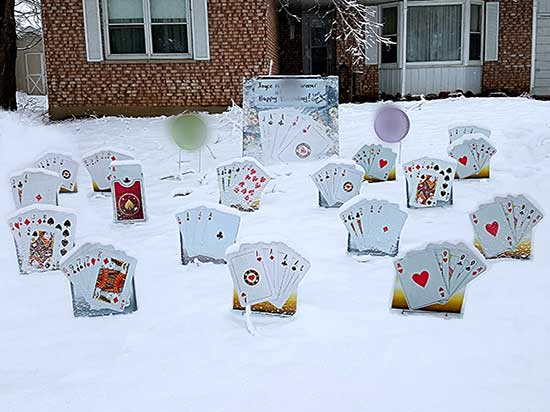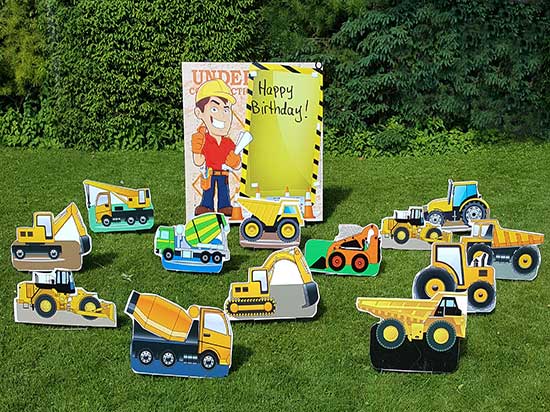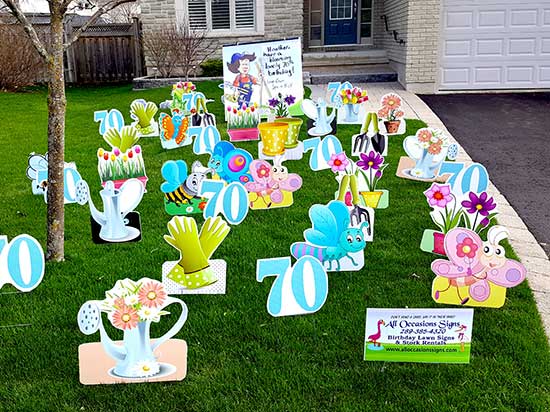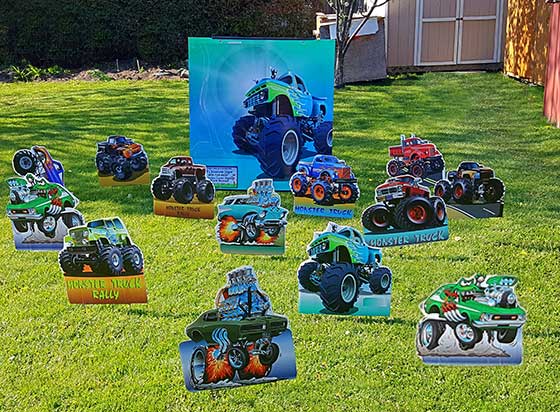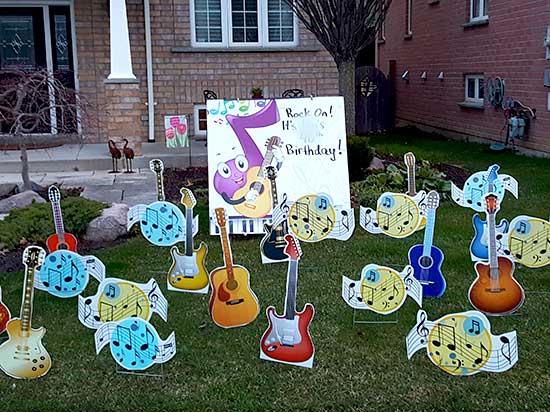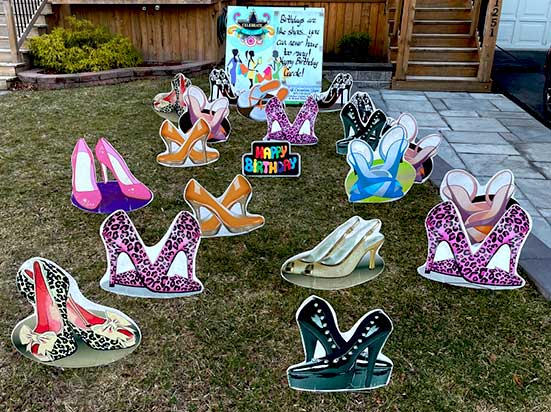 Animal Friends
Buzzards
Cats
Cows
Dinosaurs
Dogs
Doves
Fish
Flamingos
Frogs
Garden Friends
Giraffes
Goats
Llamas
Mermaids
Monkeys
Penguins
Pigs
Skunks
Teddy Bears
Teddy Bears New

Unicorns
Animal lawn signs and oversized cards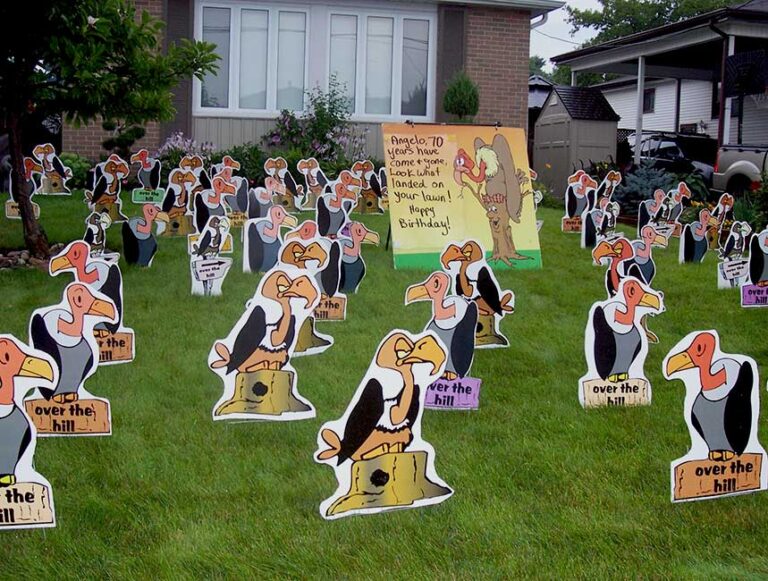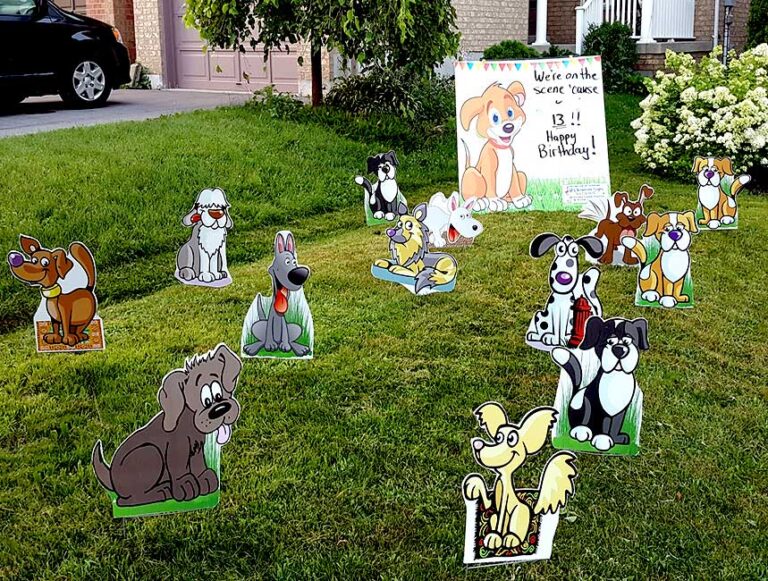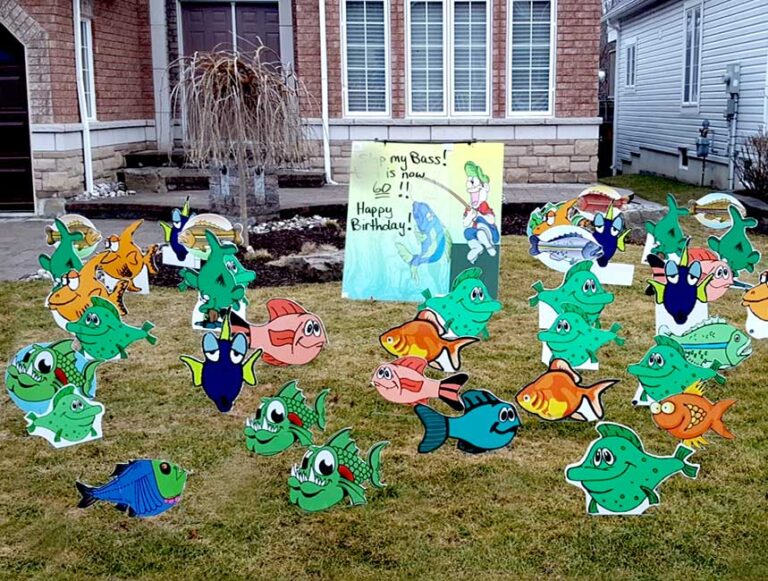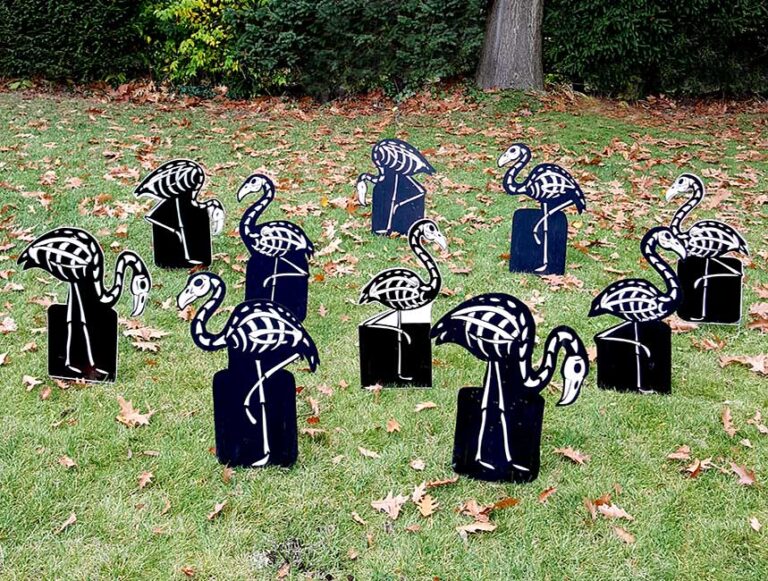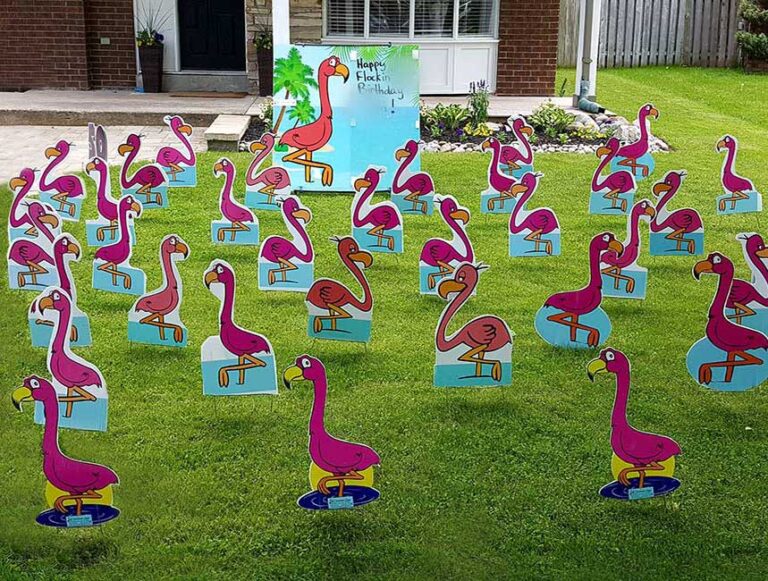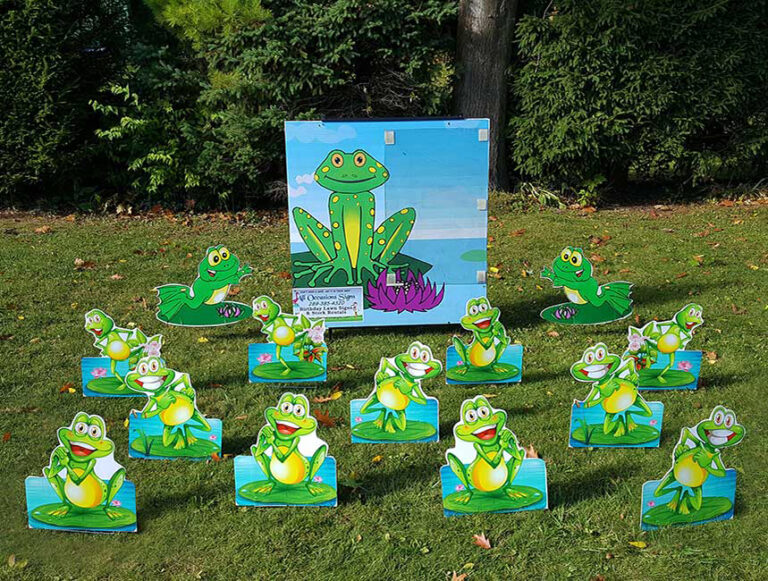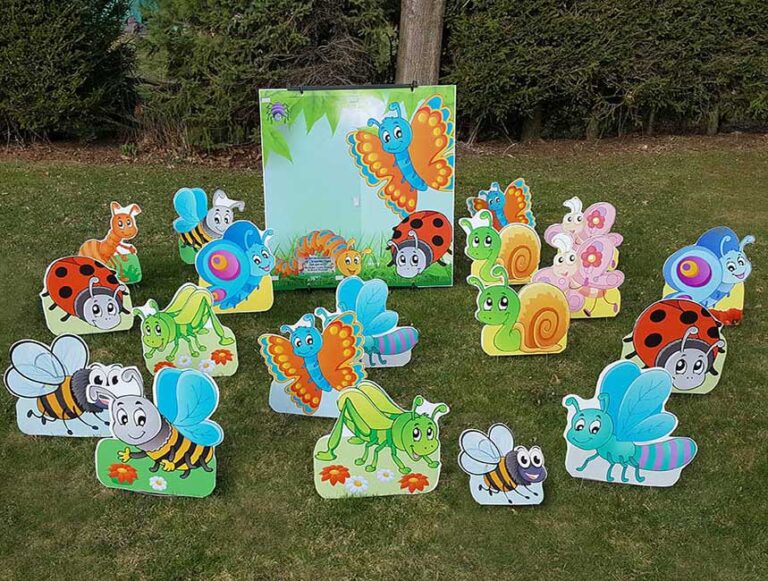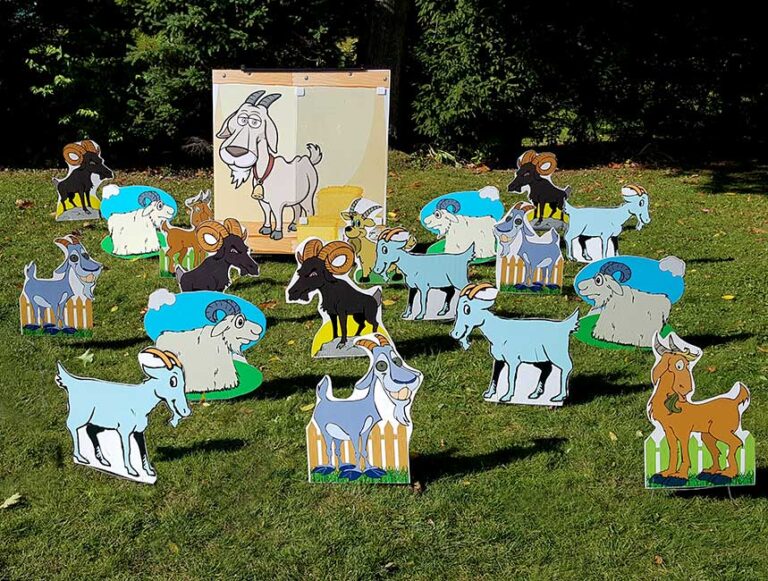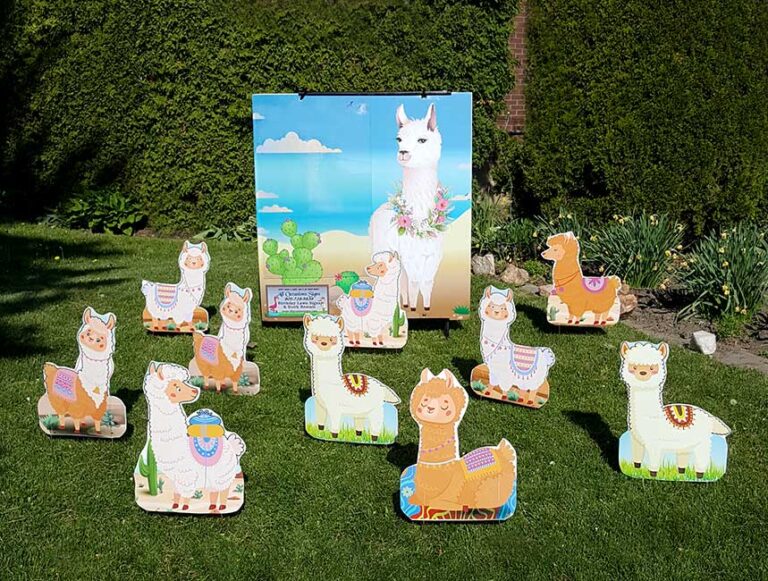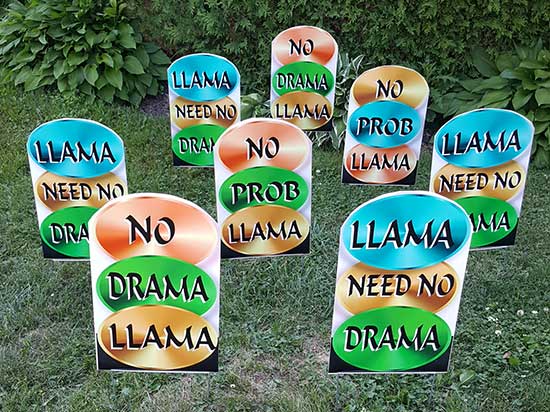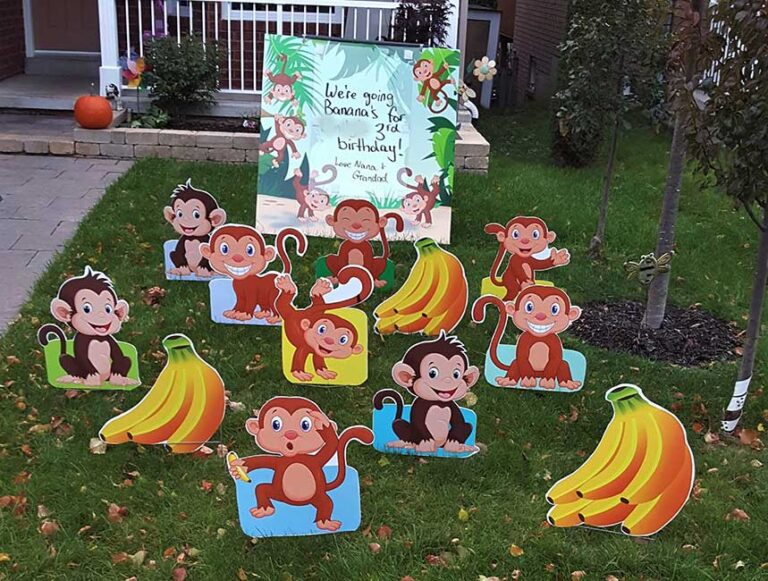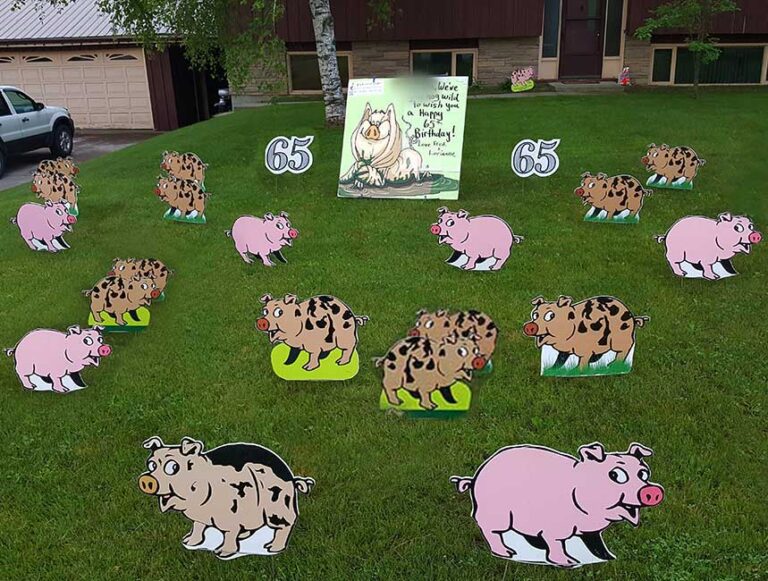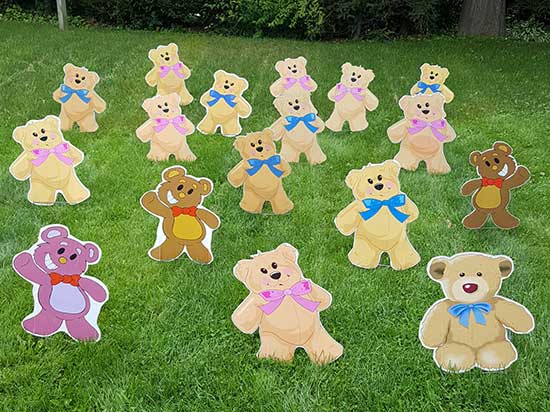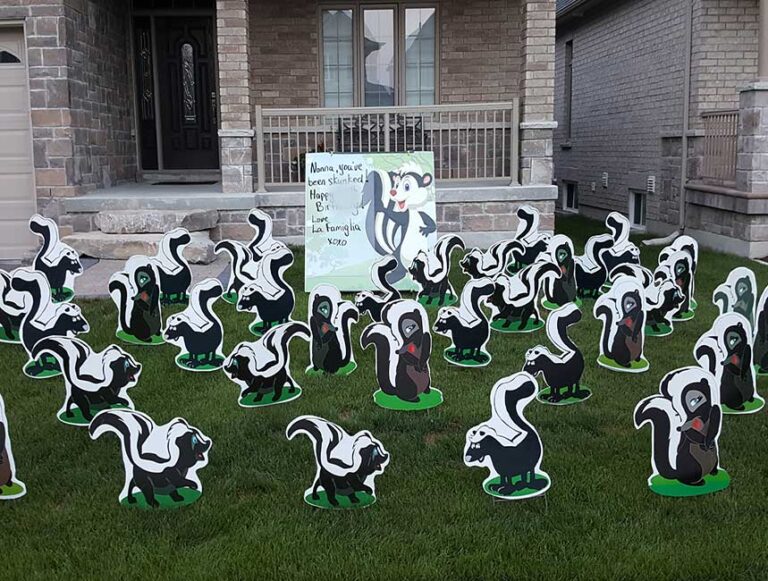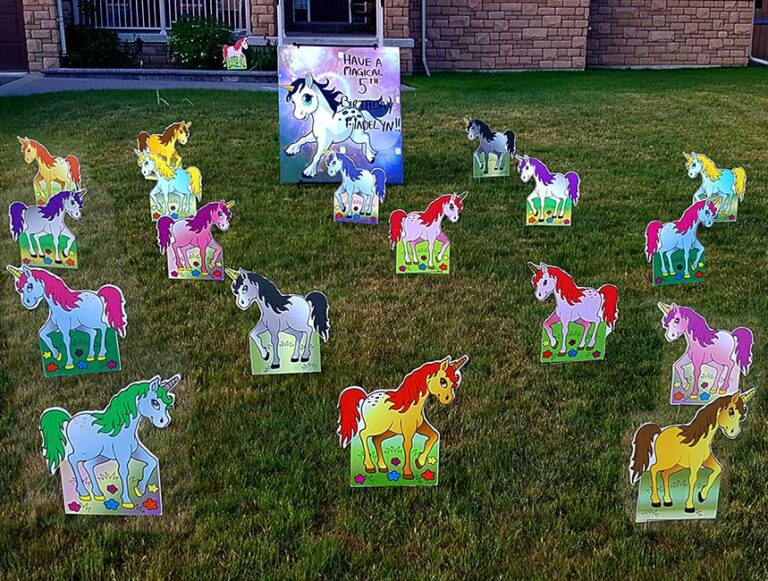 Balloons
Beer
Candles
Champagne
Crowns
Cupcakes
Fathers Day
Graduation
Happy Anniversary
Happy Birthday
Hearts
Retirement
Stethoscopes
Wedding
Wine
Wow
Celebrate lawn signs and oversized cards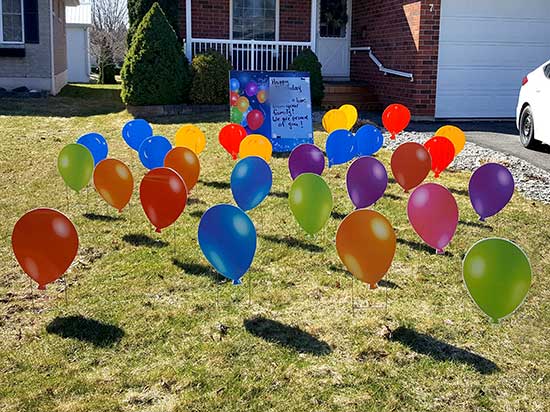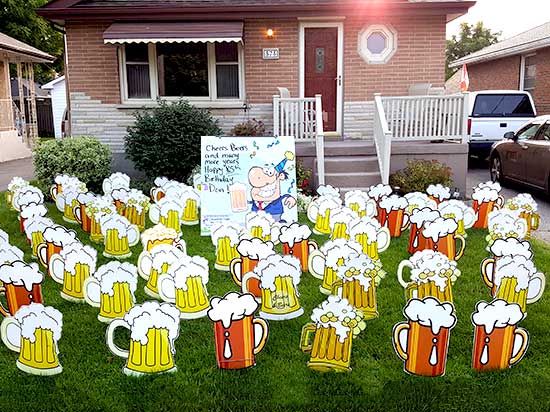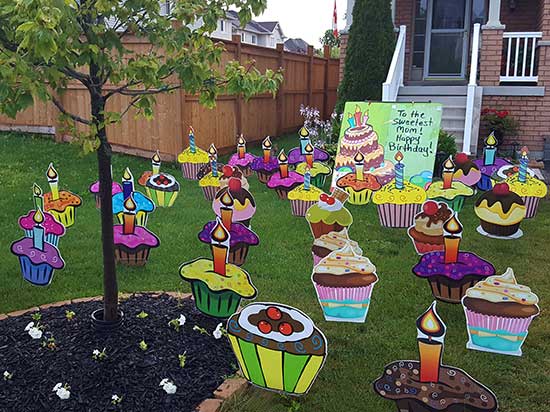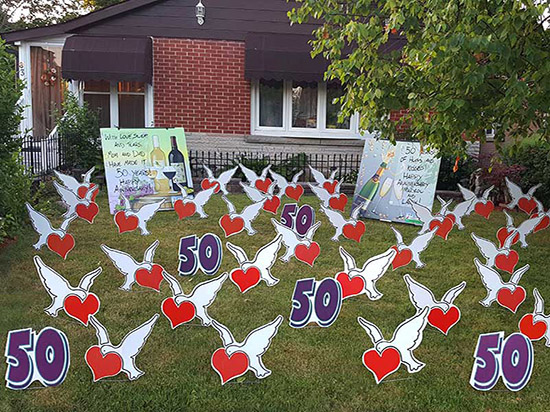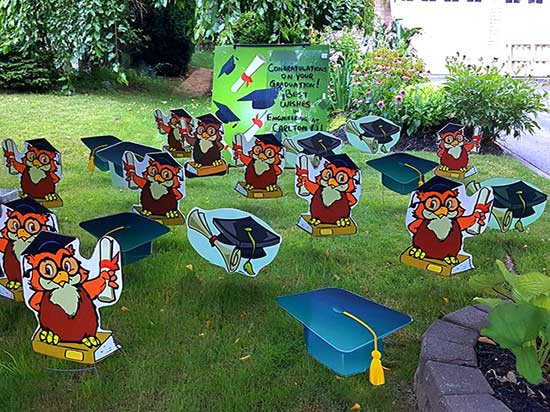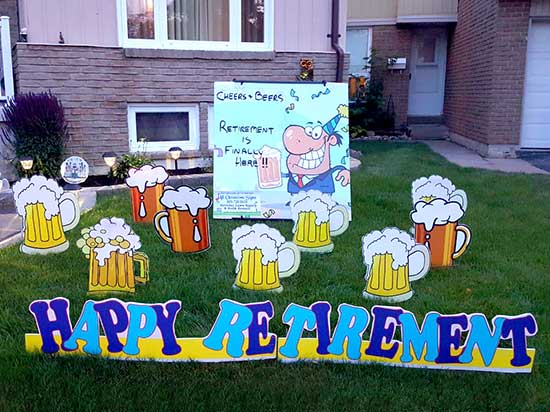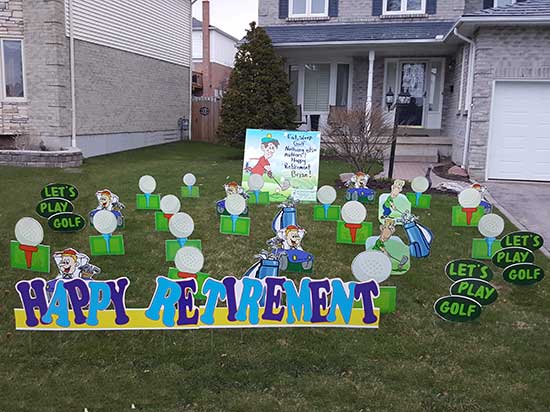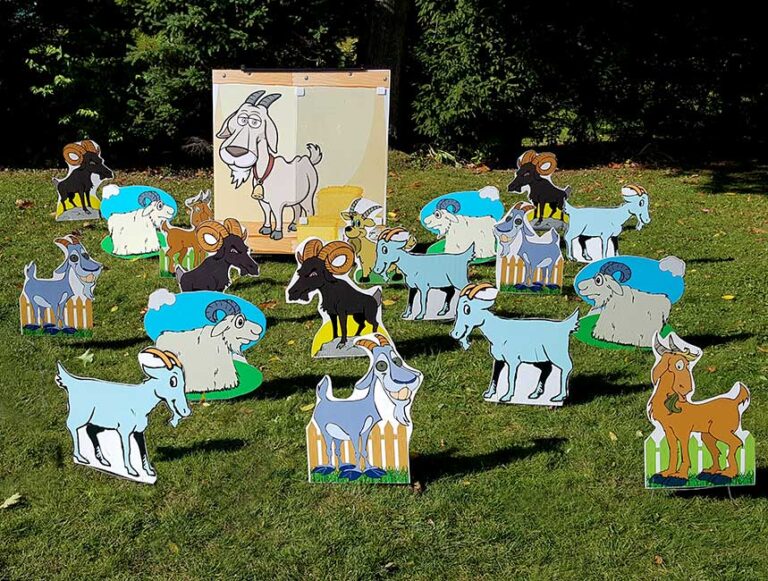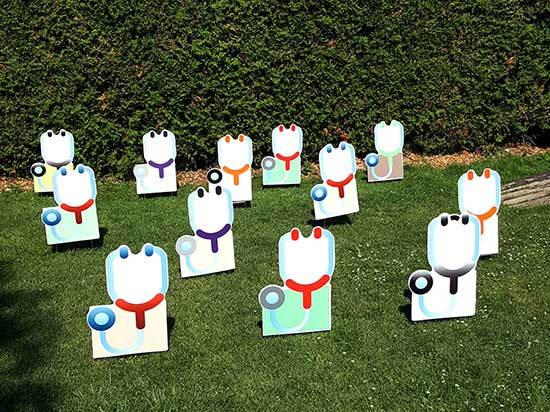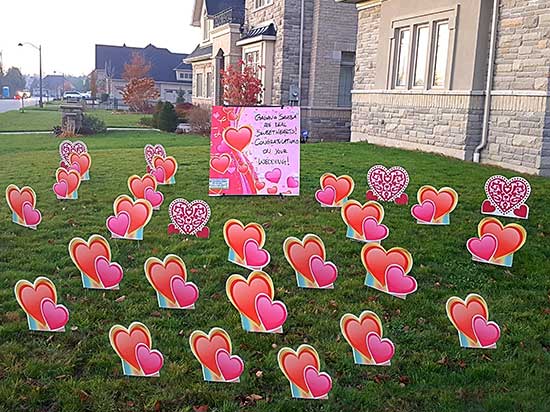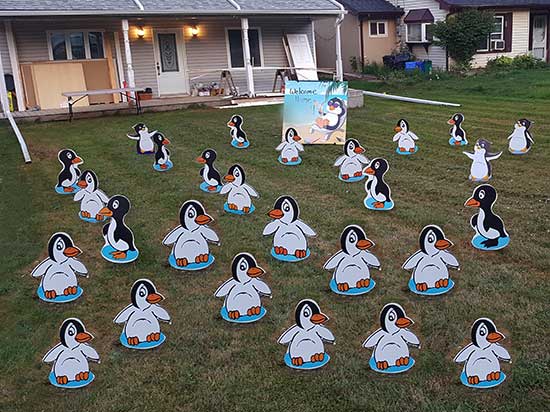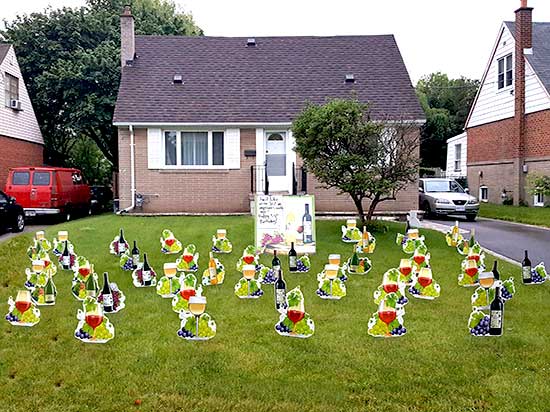 8′ Anniversary
10′ Happy Birthday
8′ Retirement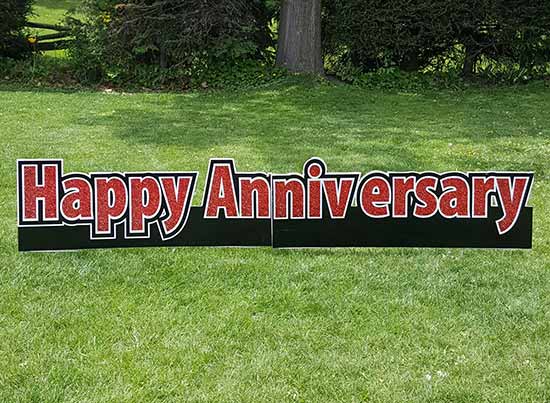 Beauty
Construction
Cards
Cars
Gamer
Gardening
Guitars
Keyboards
Monster Trucks
Motorcycles
Music
Purses
Shoes
Smiley Faces
Hobbies lawn signs and oversized cards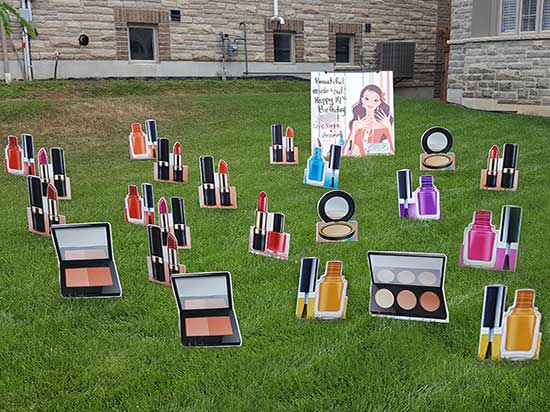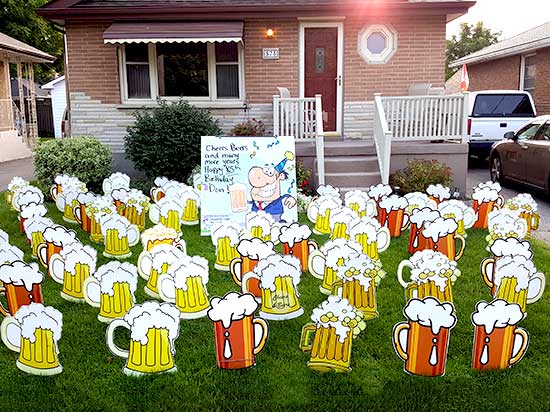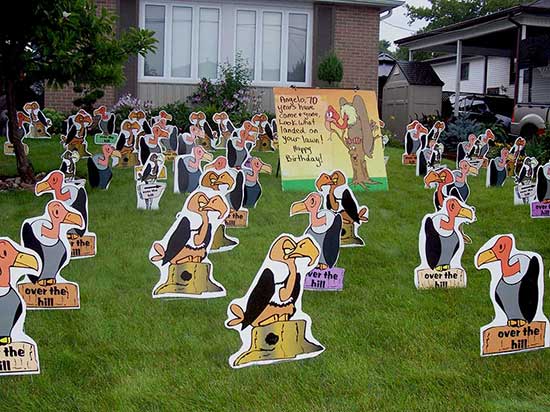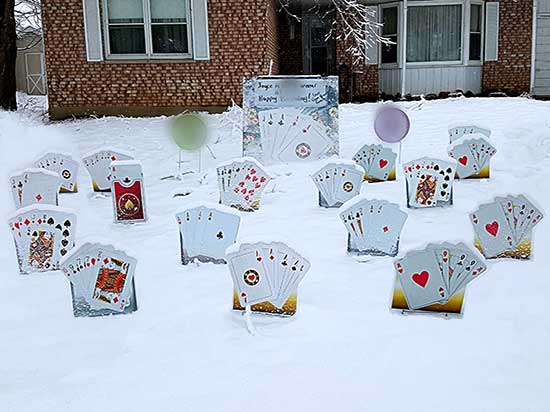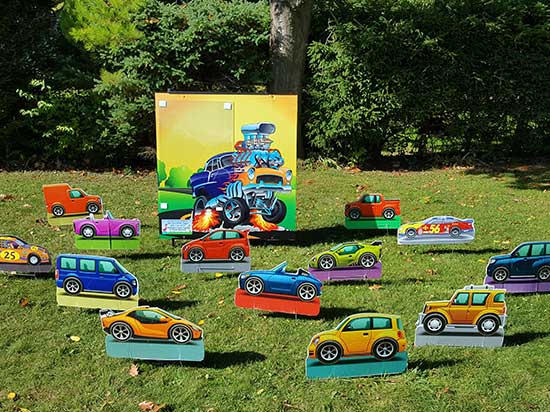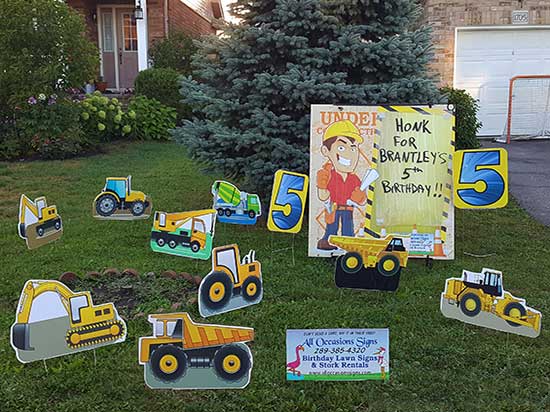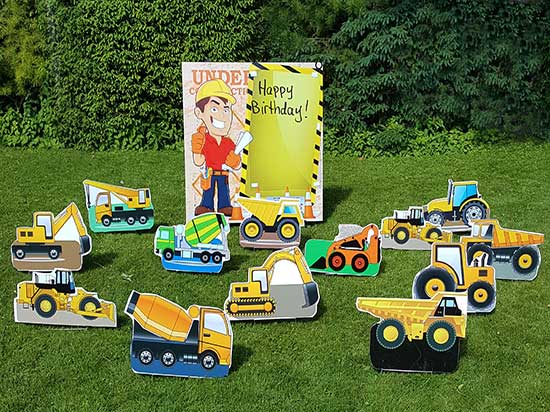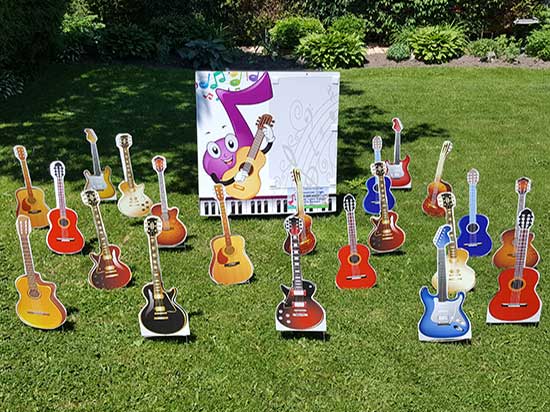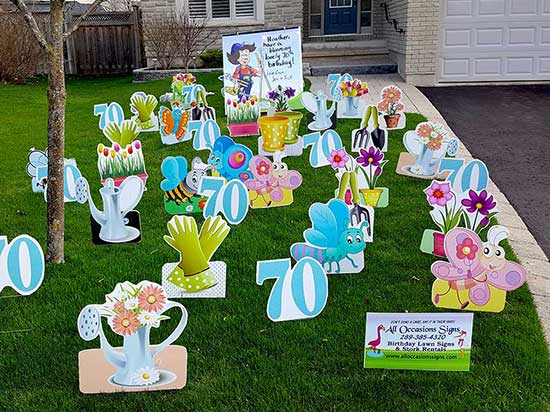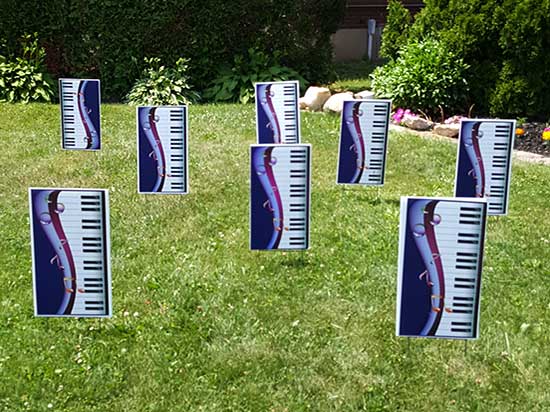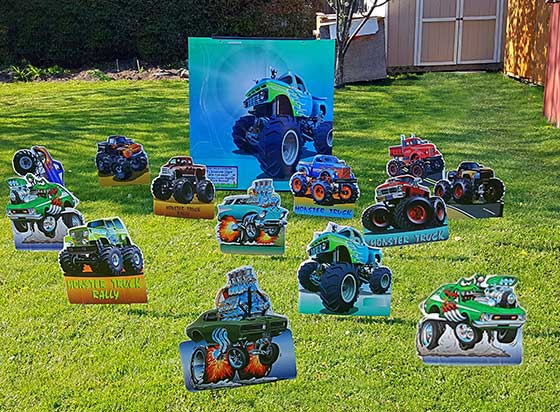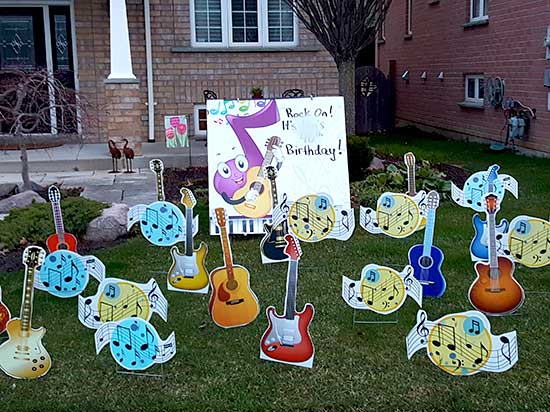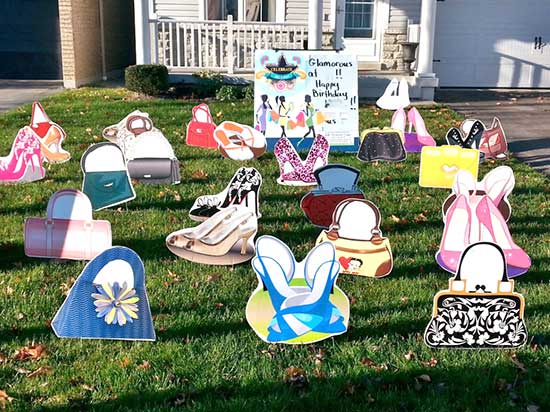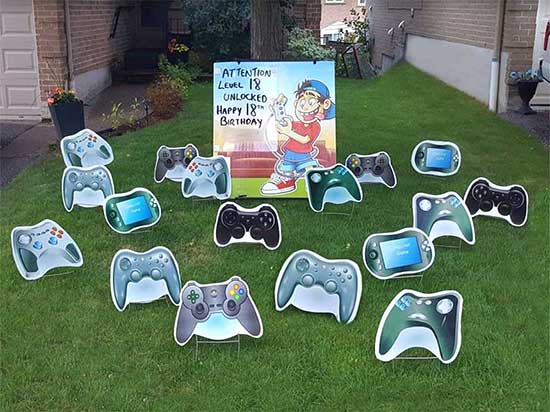 Baseball
Basketball
Football
Golf
Hockey
Soccer
Sports Mix
Sports lawn signs and oversized cards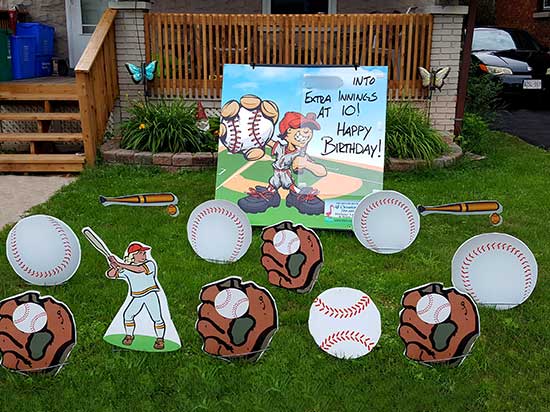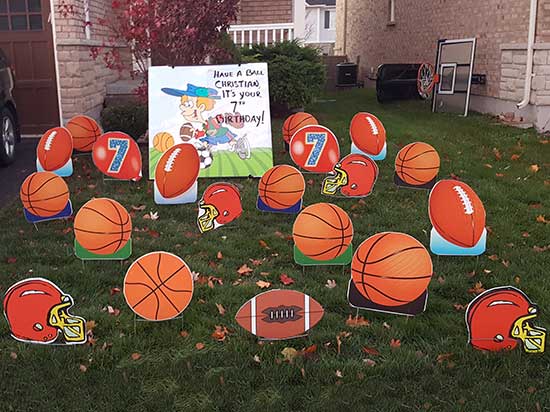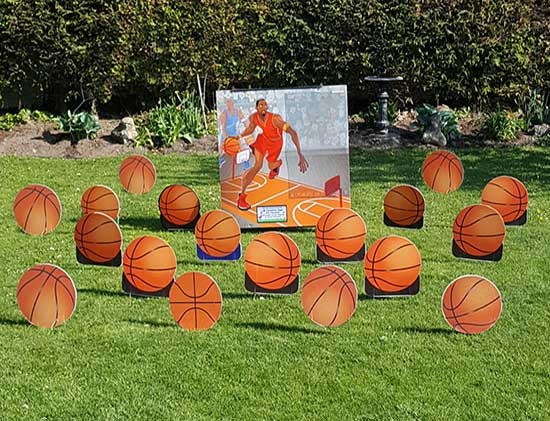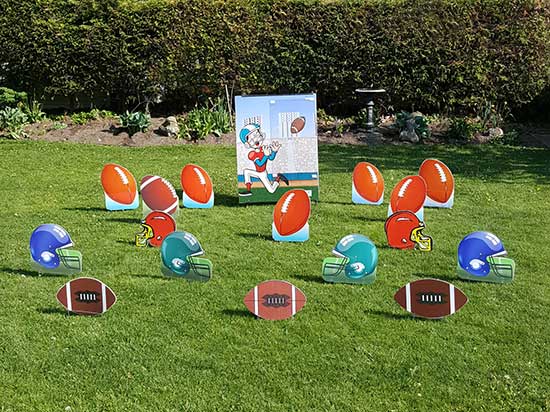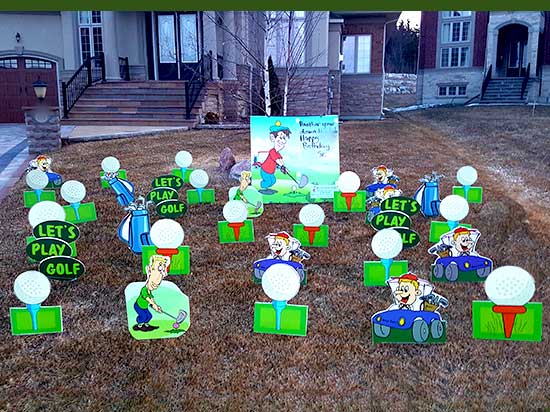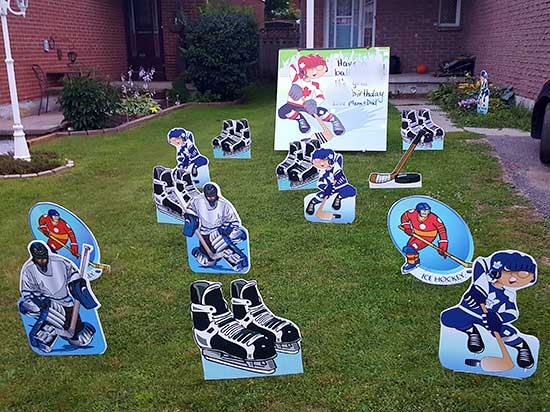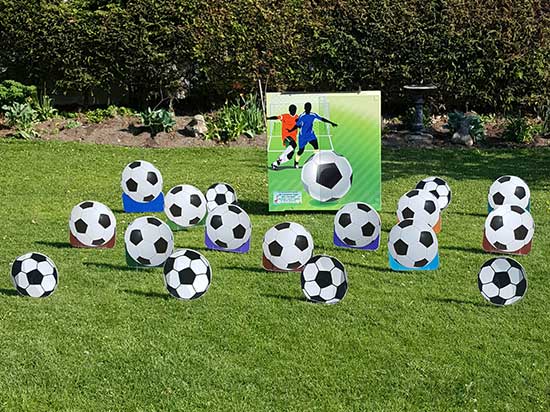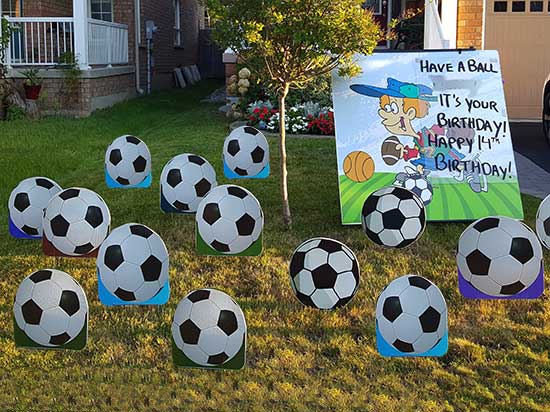 1
2
3
4
5
6
7
8
9
10
11
12
13
14
15
16
17
18
19
20
21
25
30
40
50
60
65
70
75
80
85
90
100
Numbers lawn signs and oversized cards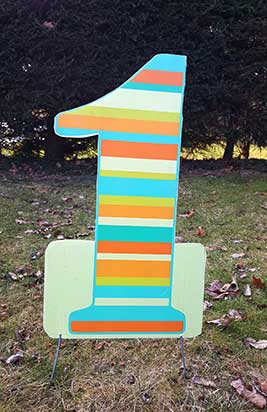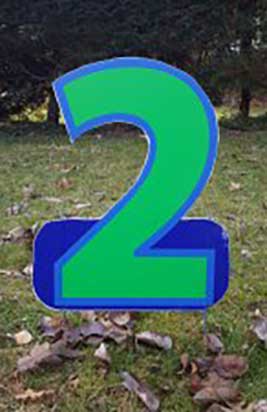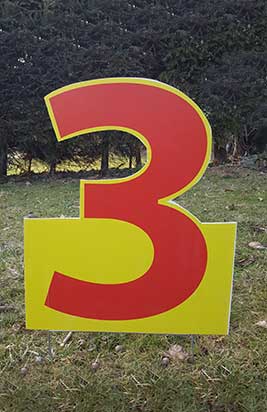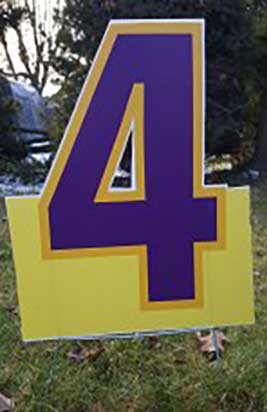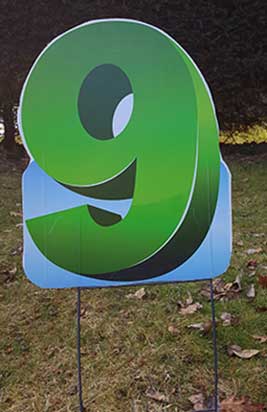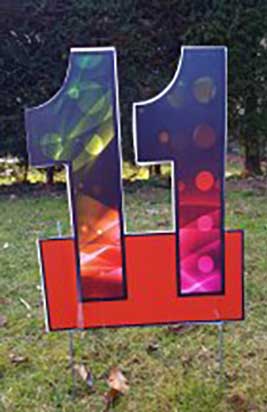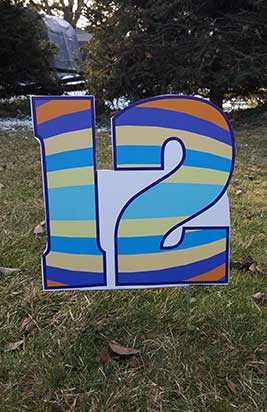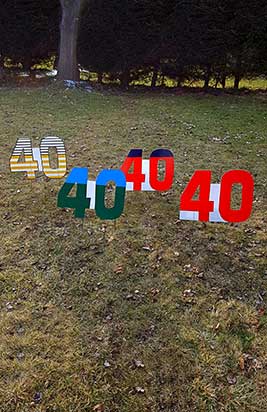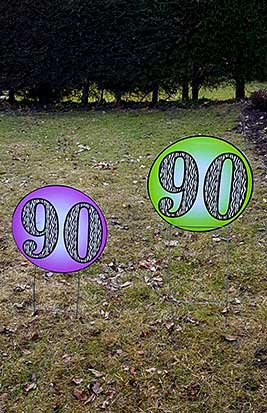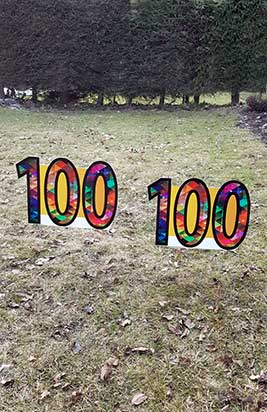 Keepsake critters keep your fun memories alive! $26
Order a personalized keepsake critter for your special person to keep. We will make a brand-new birthday sign that mirrors the ones we placed on your lawn, complete with a personalized message on it. We will bring the keepsake when we deliver your order and leave it behind when we pick everything up. They will love it. Size is approximately 20″x16".
Lawn sign characters, banner and critter prices
Our lawn signs and large message cards are delivered by 7 am
We offer contactless Covid-19 safe deliveries and pickups. Our drivers do not come into contact with anyone, at any time.
Due to the ground being typically frozen in January and February, all orders are limited to ten lawn signs and a large message card with your special message.
We make the transaction convenient for you with a 'Place your order online' or 'Call in your order' options. Payment can be made via e-Transfer (preferred), Visa, MC, Amex or by cash.
Feedback on our celebration lawn signs and stork rentals
I just wanted to say, 'Great Job!' and thanks so much. Our sister sent us a picture this morning, she got a kick out of it.
My husband was totally surprised with the dinosaurs all over our lawn when he came home from work. Everyone driving by stopped to have a look. The signs looked fantastic. Great work and great fun!
All Occasions Signs is extremely helpful and friendly! I had a last minute need for signs. I contacted them, spoke with April (she is awesome) and within an hour my lawn had signs and my son was very pleasantly surprised. Thank you!
Delivered as promised (ordered out of province). Quality at its best. It was a big hit!!